When you imagine driving through Huntsville, Florence, and Cullman, AL, in a luxury SUV, do you take the wheel of the BMW X5 or Acura MDX? Maybe you're not sure. That's fine, because the team at Century BMW is here to help you determine which of these popular vehicles is the best fit for your lifestyle.
Check out our BMW X5 vs. Acura MDX comparison and then contact us to chat about what you're looking for in your next SUV.
Related reading: BMW X5 vs INFINITI QX60
---
BMW X5 vs Acura MDX Capability

If you're looking for a capable SUV, then you've got it. That's true whether you're driving the BMW X5 or Acura MDX. Both vehicles are well-equipped for the road ahead with a standard V6 engine that really gets you up and running.
Take a look at their standard engine specs in the table below:
| | | |
| --- | --- | --- |
|   | BMW X5 | Acura MDX |
| Standard engine | 3.0L BMW TwinPower Turbo I-6 | 3.5L V6 |
| Standard horsepower | 335 horsepower | 290 horsepower |
As you can see, the BMW gives you more energy right out of the gate with 335 horsepower, thanks in-part to its twin turbocharger. If you want even more power, you can upgrade your BMW X5 to the available 4.4L BMW M TwinPower Turbo V8 engine that generates a thrilling 523 horsepower. This engine can also accelerate from 0 to 60 MPH in just 4.4 seconds.
Unfortunately, the Acura MDX only produces 290 horsepower. However, it's on par with the BMW when you look at their drivetrains. Both come standard with front-wheel drive (FWD) but make all-wheel drive (AWD) available.
This AWD system in either SUV is smart enough to adapt your traction control to changing roadway conditions to keep you steady whether you're driving along a rainy road or taking a sharp corner on the highway.
---
MPG and Fuel-Saving Features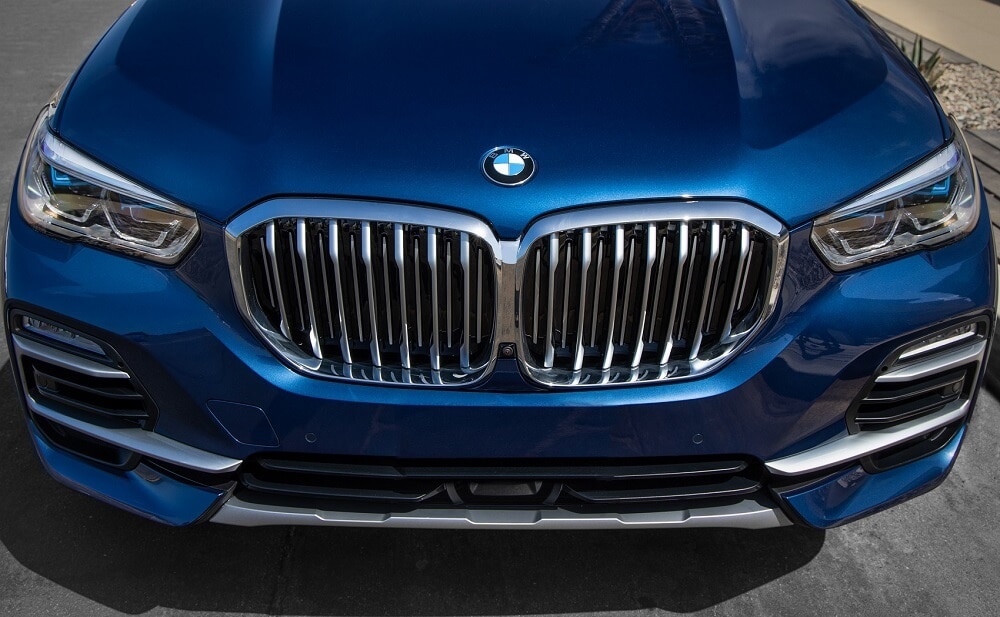 We've talked about how much power these SUVs offer, but what about efficiency? Both the BMW X5 and Acura MDX put fuel-saving technology at the forefront with features like automatic start/stop. You'll find a comparable feature in either vehicle to help you reduce fuel use during stop-and-go driving.
It works by powering down your engine during extended waits at stop signs, traffic lights, and more. When you move your foot off the brake, the engine seamlessly springs back into life. Despite having similar technologies, the BMW manages to outperform the Acura during city driving when equipped with the standard V6 engine and AWD:
BMW X5 EPA-estimated MPG: 21 MPG city, 25 MPG highway
Acura MDX EPA-estimated MPG: 19 MPG city, 25 MPG highway
The BMW may be able to go the distance more readily during city driving thanks to its eBoot 48V mild hybrid technology. This feature optimizes powertrain functioning as needed to support the engine workload.
The BMW also uses brake energy regeneration to help you harness kinetic braking energy to efficiently charge the battery. Not only that, but the BMW X5 is also available as a hybrid that can improve your fuel efficiency even more.
Without similar features in place, the Acura MDX may have you stopping more frequently to fill up during your afternoon commute than the BMW X5.
---
Interior Space and Seating: BMW X5 vs Acura MDX

Next, let's climb inside and take a look at the cabins of these two SUVs. With both, you'll get plenty of comfort features like a power-adjustable driver's seat that lets you adjust it up to 16 different ways. They also both include lumbar support that can provide some extra fatigue relief for your low back during long drives.
The BMW X5 and Acura MDX also allow you to open up your cabin space a bit thanks to a sunroof while ambient lighting lets you set the mood at night.
As for their specs, you'll get a bit more headroom with the BMW, as you can see from the dimensions below:
| | | |
| --- | --- | --- |
|   | BMW X5 | Acura MDX |
| Headroom (front) | 40.7 inches | 38.5 inches |
| Headroom (second-row) | 39.4 inches | 38.1 inches |

While the BMW gets slightly more headroom compared to the Acura, both vehicles give you more than enough seating space. Both can accommodate up to seven passengers. The Acura MDX comes standard as a 3-row configuration.
The BMW, on the other hand, gives you more versatility by giving you the option to choose between a 2-row and 3-row cabin option.
Related reading: BMW X5 vs Mercedes-Benz GLE
---
Cabin Technology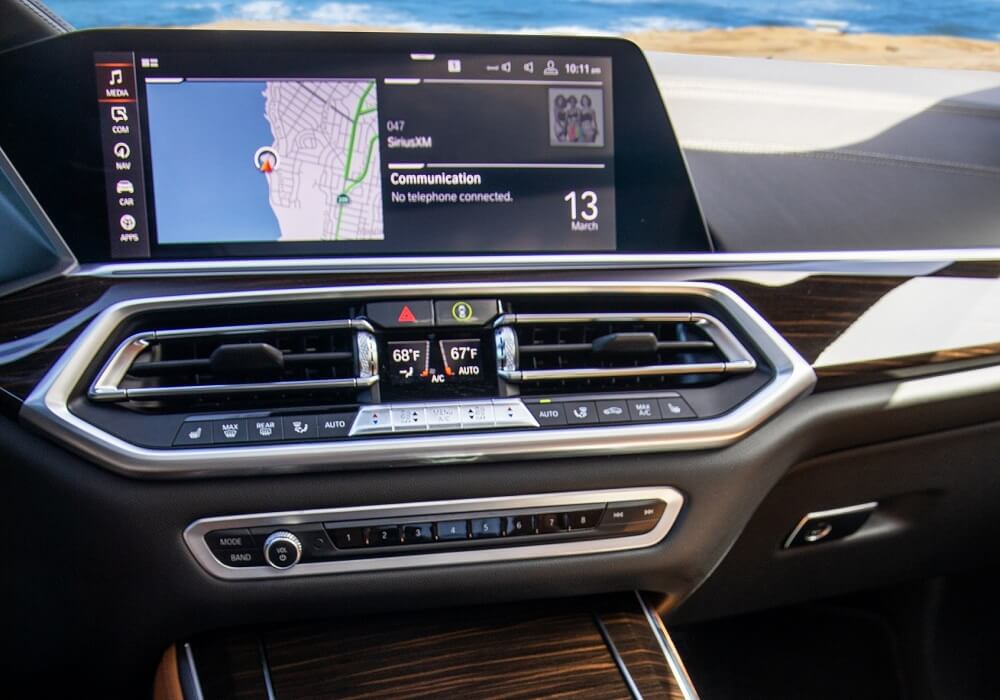 When it's time to hit the road and show off your luxury SUV around town, it's vital that you have the right soundtrack for your outing. With both the BMW X5 and Acura MDX, you'll have the tools you need to play your carefully curated road trip playlist at full volume.
Both vehicles come standard with connectivity features that put you in control of all your media. Plug in your smartphone and you'll be able to safely access apps like navigation, internet radio streaming, audiobooks, podcasts, phone calls, and more through your SUV's touchscreen.
Thanks to Bluetooth® technology, you can also stream music directly from your phone or take hands-free phone calls while you drive.
While all media and most vehicle settings are accessible through the infotainment touchscreen display, you can also keep your hands on the wheel and use voice recognition features. Simply press a button on the steering wheel or speak a prompt (like Hey, BMW, in the BMW X5) and give your command. Your vehicle will respond accordingly.
---
Should I Buy the BMW X5 or Acura MDX?
Now that you've learned a little more about the similarities and differences between the BMW X5 and Acura MDX, you should have a better idea of which one you want to drive around Huntsville, Cullman, and Florence, AL.
While it's up to you which one you should drive, the BMW X5 pulled ahead in our comparison on the points of MPG, engine performance, and cabin space and versatility. If this sounds like the right luxury SUV for you, contact the team at Century BMW. A knowledgeable member of our team will speak with you one on one to make sure that it's the best choice for you.
Get started today by contacting our BMW dealership and scheduling your test drive of the BMW X5!