When deciding which luxury car to drive around Huntsville, Florence, and Cullman, AL, you're in great hands with either the BMW 5 Series or INFINITI Q60. Both cars are well known for their powerful engine specs, capable cornering, and high-class interiors.
Which one is right for your unique lifestyle? The team at Century BMW is here to help you figure that out with our BMW 5 Series vs. INFINITI Q60 comparison. Learn more ahead!
---
BMW 5 Series vs INFINITI Q60: Powertrain Specs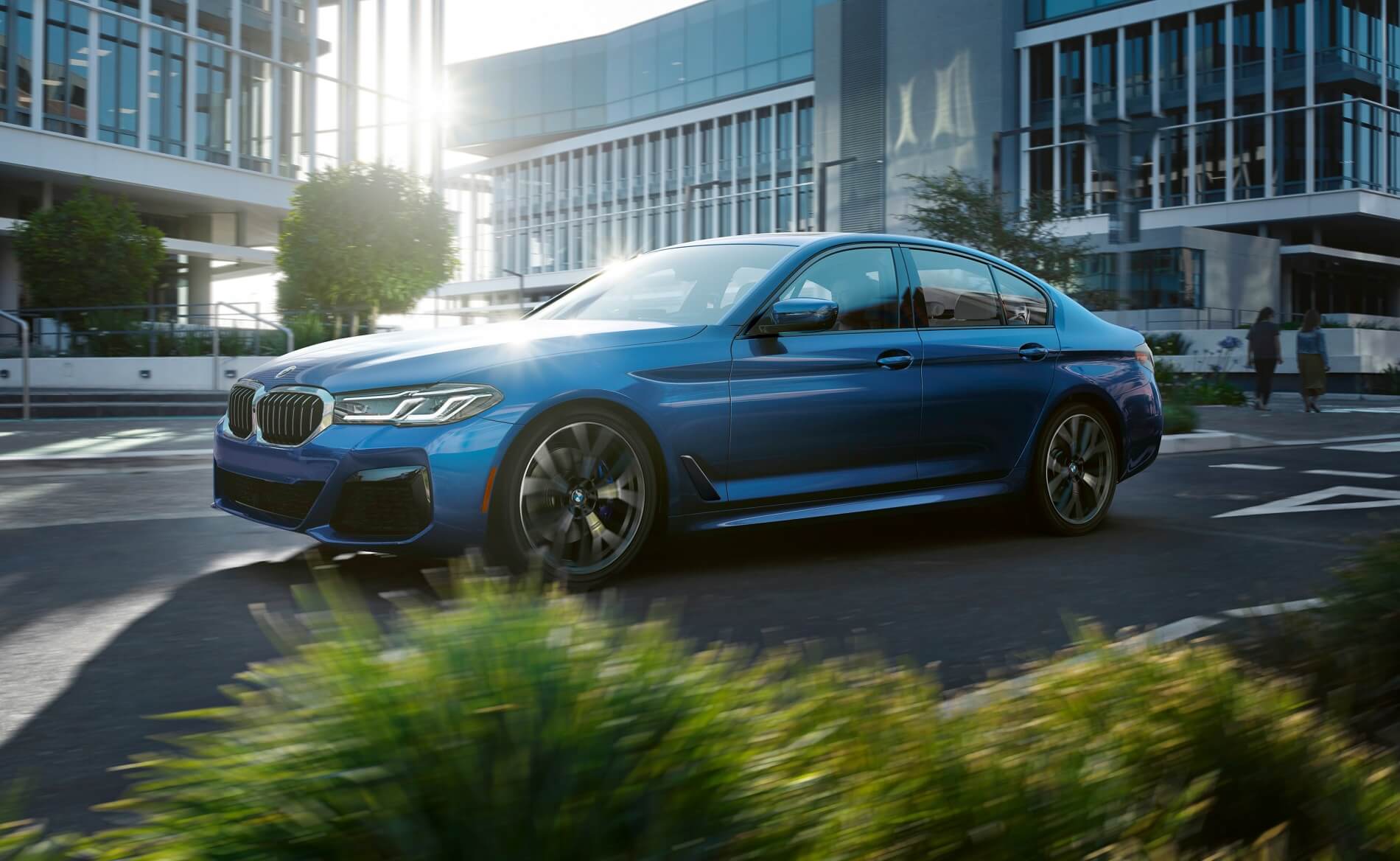 When you see a sleek sedan or coupe like the BMW 5 Series or INFINITI Q60, respectively, you expect a powerful engine to reside under the hood. That's exactly what you get with both cars, which come with a standard 3.0L turbocharged V6 engine. In the BMW, this engine generates 335 horsepower. In the INFINITI, it produces 300 horsepower.
If you really want a lot of power, though, you may want to go with the M line on the BMW 5 Series. This performance line boosts your engine power to a thrilling 523 horsepower with the 4.4L BMW M TwinPower Turbo V8 engine.
Unfortunately, the INFINITI doesn't have a powertrain that goes above 400 horsepower, nor does it offer a performance line like the BMW M line.
---
Comfortable Interior Features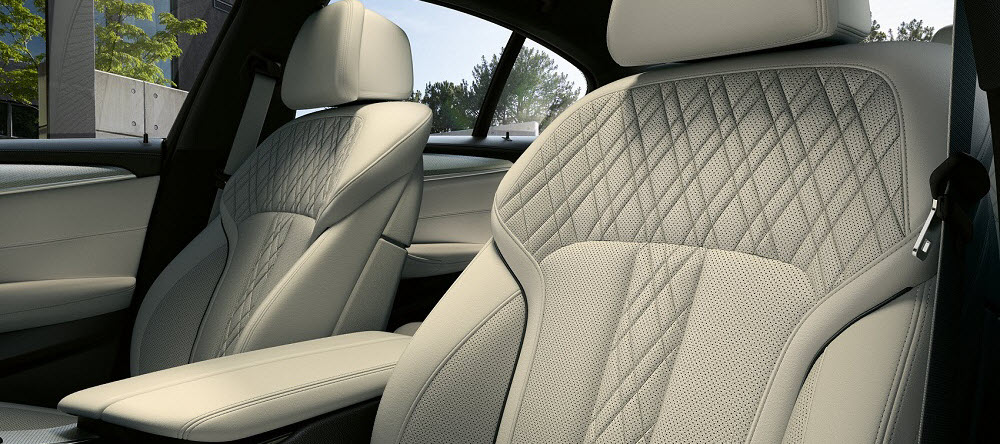 When you open the front door and get into the driver's seat of either the BMW 5 Series or INFINITI Q60, you're going to feel cradled in luxury right away. Both cars feature premium materials and standard lumbar support for the driver's seat, as well as over 41 inches of driver legroom.
The BMW and INFINITI also both have two rows of seats, although those in the back may have more room in the BMW 5 Series, as you can see from the chart below:
| | | |
| --- | --- | --- |
|   | BMW 5 Series | INFINITI Q60 |
| Seating Capacity | 5 passengers | 4 passengers |
| Rear-Seat Legroom | 36.5 inches | 32.4 inches |
| Trunk Volume | 14 cubic feet | 8.7 cubic feet |
The biggest difference here is that the BMW 5 Series is a sedan while the INFINITI Q60 is a coupe, so the INFINITI has significantly less interior room overall.
Not only will you have to leave someone behind if you drive the INFINITI vs. the BMW, but you'll also have to pack much lighter considering the differences in their trunk volumes. The BMW, on the other hand, has a seating capacity of five passengers and can fit up to 14 cubic feet of luggage, groceries, and more in the trunk.
---
Tech Inside the BMW and INFINITI Cabins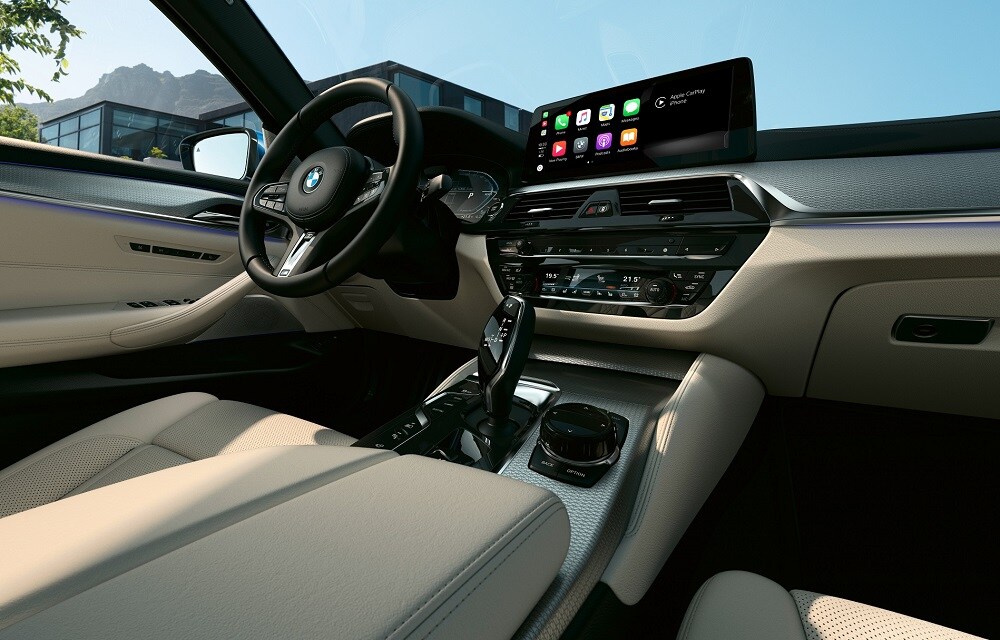 There's no doubting that the BMW 5 Series and INFINITI Q60 are high tech. Both feature Bluetooth® wireless capabilities that allow you to use your smartphone to stream music or take hands-free phone calls on the go.
They also both have a rear-view camera feature that turns the standard touchscreen display in the center stack into a live video feed of the area directly behind your vehicle while in reverse. Drivers in the BMW 5 series may find that video feed easier to see in the BMW, however, based on their touch-screen measurements:
BMW 5 Series Infotainment Display: 12.3 inches
INFINITI Q60 Infotainment Display: 8 inches
Those extra 4.3 inches may also make it easier to view media info as well as available navigation when you're driving the BMW as opposed to the INFINITI.
---
Will You Drive the BMW 5 Series or INFINITI Q60?
Next time you take the wheel, will you be driving the BMW 5 Series or INFINITI Q60 around Huntsville, AL? If you're a fan of the BMW, Century BMW can help you take it out for a spin. If you're in the Florence or Cullman areas, simply contact us and schedule a test drive today!