When drivers around Huntsville, Florence, and Cullman, AL, are in the market for a luxury car, they think of household names like the BMW 3 Series or INFINITI Q60. So, which one will you drive? We wanted to help you decide, so the team at Century BMW compared them both.
Check out our comparison, then contact us to try the car that feels right for your lifestyle.
---
BMW 3 Series vs INFINITI Q60: Power and Efficiency

For many people, when they hear about the BMW 3 Series and INFINITI Q60, they think about the powerful kick of their engines. That's because both have an available twin turbocharged 3.0L V6 engine that delivers over 380 horsepower. They also both come with standard or available all-wheel drive (AWD), which can help you maintain traction control when taking all that power around a tight corner.
When you're propelling forward with an energetic engine under the hood, you don't want to have to break for a pit stop, so which one is going to have you at the pump more? You can see that in the table below:
| | | |
| --- | --- | --- |
|   | BMW 3 Series | INFINITI Q60 |
| Available Engine | 3.0L BMW M TwinPower Turbo V6 | 3.0L Twin Turbo V6 |
| Drivetrain | AWD | AWD |
| EPA-estimated City MPG | 22 MPG | 19 MPG |
| EPA-estimated Highway MPG | 31 MPG | 26 MPG |
Overall, the INFINITI looks like it might require more frequent fill-ups due to its much lower fuel economy numbers. So, if you want to spend less time refueling, you might want the BMW.
---
Interior and Dimensions: BMW 3 Series vs INFINITI Q60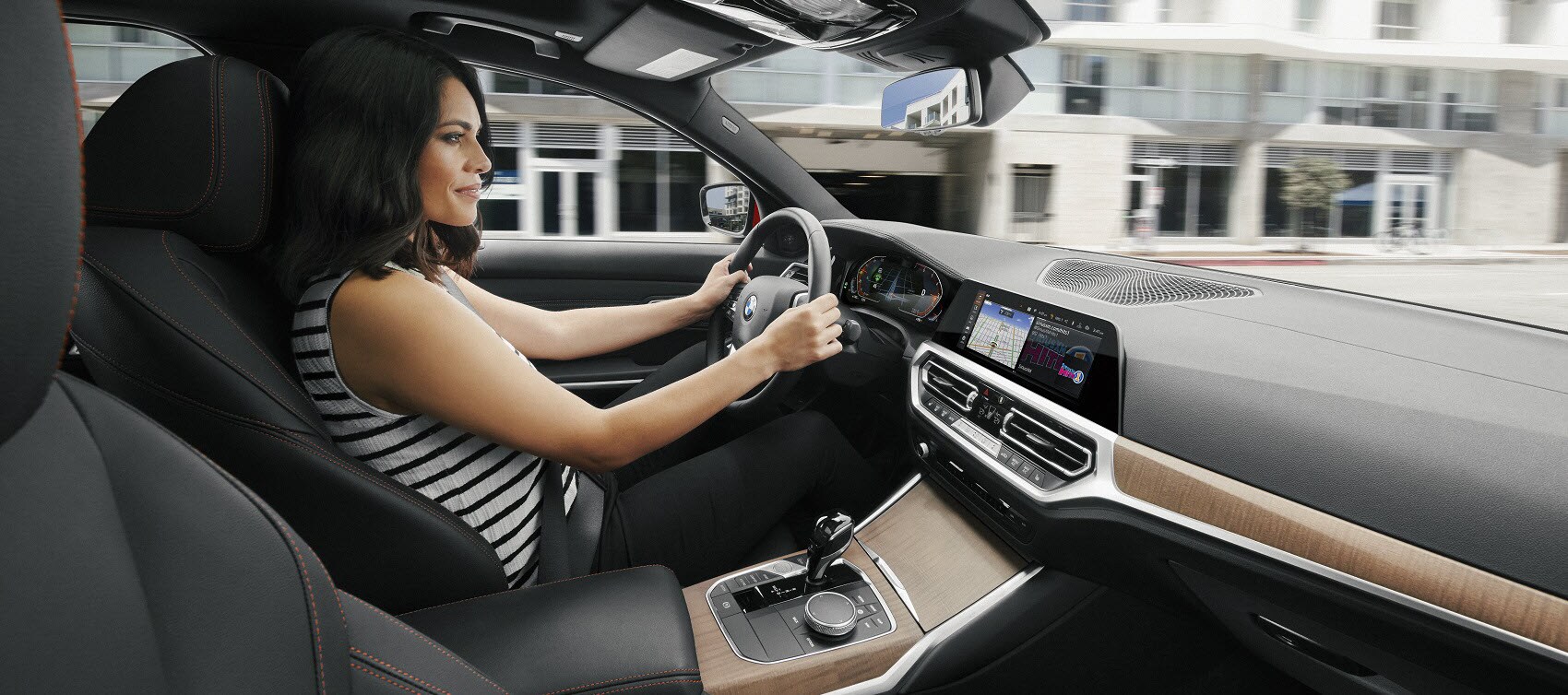 Whether you're driving the BMW 3 Series or INFINITI Q60, you're in for a first-class experience. Both have available leather-wrapped steering wheels and seating appointments. They also both use wood inlays and accents to create the feel of a mobile executive suite, while available lumbar support helps you relax after a long day at the office.
If you want to bring any guests with you, however, you'll have more room in the BMW than the INFINITI, which this table will show:
| | | |
| --- | --- | --- |
|   | BMW 3 Series | INFINITI Q60 |
| Seating Capacity | 5 passengers | 4 passengers |
| Rear Legroom | 35.2 inches | 32.4 inches |
| Cargo volume | 13 cubic feet | 8.7 cubic feet |
The BMW 3 Series sedan can seat five passengers comfortably. The INFINITI Q60, on the other hand, is a coupe, so it only has enough seating capacity for four passengers. So, if you're driving the INFINITI, you may have to leave someone behind.
The BMW also lets you pack more heavily, with 13 cubic feet of trunk space. Unfortunately, the INFINITI only has enough room in the trunk for 8.7 cubic feet of cargo. That's the difference of 4.3 cubic feet, which is roughly two standard-sized suitcases.
---
Take Your Pick: BMW 3 Series or INFINITI Q60
Now that you know how the BMW 3 Series and INFINITI Q60 compare, it's time to take your pick. Which luxury car will you drive around Huntsville, Cullman, and Florence, AL? If you're a fan of the BMW, then reach out to the team at Century BMW because we'd love to get you behind the wheel.
Contact us to test drive the BMW 3 Series today!